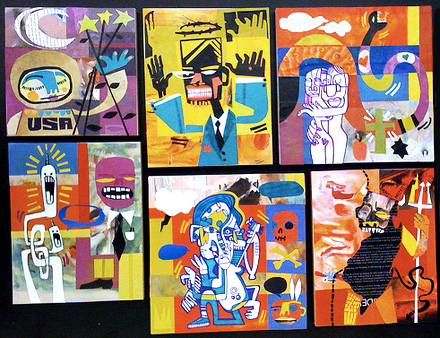 A Variety of Inspired Collages, Inspired by A Variety of Collagers
Now that I'm ankle-deep in another collage course, it's time to tip my hat and hand.  A keen art historian may peek at my past collage work (pictured above) and detect the influence of Henri Matisse, Romare Bearden and Jean-Michel Basquiat. A keener art historian, living in the Baltimore area, would recognize the influence of contemporary artist, Matt Bovie.
I have been attracted to, and inspired by, Bovie's work for many years for it's strong iconography, bold palette, harmonic compositions and primitive sincerity. Although the work is modern, it seems to encapsulate a mythology spanning generations.
Bovie shows and sells his work in Baltimore but doesn't exhibit or market his art online. Perhaps that relative digital reclusiveness adds to the allure. I am aware of his work only due to a chain of coincidental acquaintances. Although we've never met, I peer at his occasional art-related albums on Facebook and admire from afar.
If you'd like to learn more about the work of Matt Bovie, wander the streets of Baltimore and hope you run into him.