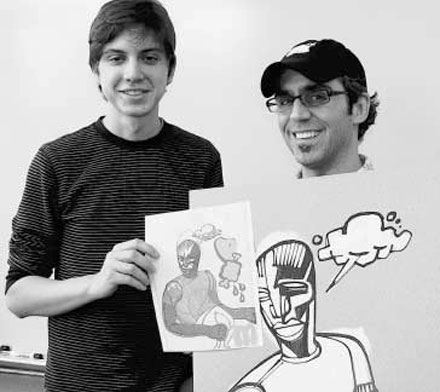 David Robinson • Main Line Times • November, 2008
The phrase "passing the torch" may bring to mind the vision of our ancestors moving through darkened caves, with tiring elders handing the flame of leadership to the next generation. In the art world, "passing the torch" might be thought of as the moment when ancient hands drawing beasts and visions on cave walls pause to take the torch from eager apprentices and hand them charcoal and umber to begin their artistic journey.
MilkBoy Coffee in heart of Ardmore, will be the site of such an exchange First Friday, Dec. 5 from 7 to 9:30 p.m. Welsh Valley Middle School's charismatic art teacher, Todd Marrone, will be passing the torch to the young artist, Lower Merion senior Emmett DeMuzio.
"I went to the Lower Merion High School Art Showcase to see the student work," Marrone explained. "I go to see what the high school's are teaching, so I know how to prepare my middle school students for the high school art programs. I also go to catch up on the high school work of my former students… and it's always a treat to see the art. The shows showcase senior art, but also include the lower grades, and I was really impressed with Emmett's work and drawn to his style. It's rare to see such stylistic strength at such a young age. He has a surrealistic flavor. His work is character driven, very graphic and shows a great deal of imagination. I guess it also comes down to what I like and seek in other artists."
Marrone e-mailed DeMuzio's art teacher to arrange a meeting, but year end school activities got in the way of meeting, and then DeMuzio went off to a summer painting course at the Rhode Island School of Design. DeMuzio has been serious about his art since middle school and has taken previous summer courses at Moore and the Philadelphia Academy.
"This fall, we finally connected and I saw his sketchbook and thought it would be interesting to do something together," Marrone explained. Marrone's work includes drawing and graphic design ranging from skateboards to T-shirts, and performance art. "I've done a few shows at MilkBoy for the past three years, and when I was asked back this year, I immediately thought of collaborating with Emmett, because he will bring a new energy and audience," he said.
The MilkBoy performance art program will feature Marrone and DeMuzio working on stage along with the music of D.J. Lightborn and the four piece band, The Levelheads.
"We will have easels on both sides of the stage and work during the music," Marrone explained. "We may do as many as 40 improvisational pieces, and we'll have some hanging art for sale.
"Passing the Torch," at MilkBoy Coffee (across from Radio Shack on Lancaster Avenue), is free and for all ages, as part of First Friday on the Main Line.