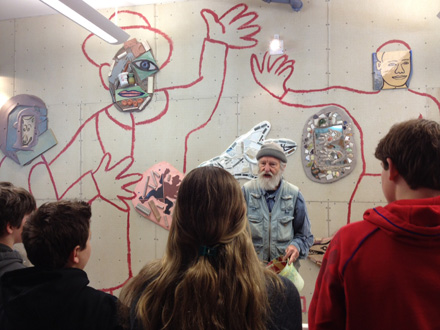 David Robinson • Lower Merion School District • February, 2012
Isaiah Zagar is a mosaic artist whose work is included in the permanent collections the Philadelphia Museum of Art, the Pennsylvania Academy of Fine Art, and the Hirshhorn Museum in Washington, D.C. He has received grants for his artistic excellence from the National Endowment for the Arts and the Pew Charitable Trust for his work in Interdisciplinary Arts. He recently visited Welsh Valley Middle School to begin a mosaic project with students and the art teachers, Todd Marrone and Lori Rogers.
"Isaiah Zagar is an internationally recognized mosaic artist working in the Philadelphia area for 50 years," Marrone said. "His work is featured in about 150 exterior and interior locations, many viewable by the public. Especially centered around The Magic Gardens, a 15-year project that encompasses his studio, gallery, catacombs and pathways on South Street."
In addition to his commissioned work, Zagar offers weekend workshops nine times a year in the spring, summer and fall to about 20 or 30 people. He teaches them his process and then they all work together and collaborate on a huge piece. "My wife and I took that workshop with him five years ago," Marrone said.  "I was very inspired by his work."
Marrone wrote a grant proposal for a mosaic mural at the entrance to the Welsh Valley Middle School auditorium. "The Educational Foundation of Lower Merion, a parent group, gave us a very generous grant and then our principal Scott Eveslage got very interested in the concept and matched the Education Foundation grant."
"We hope to get all the students involved in this project," Art Teacher Lori Rogers added. "Some will create components within the mosaic, such as ceramics, clay, and hand painted tiles. Other components will be glass and mirrors. Some kids will be involved first hand in putting the small tiles up, others will be involved in the grouting work. We will also have parents involved as docents to inform students about the artist and his work, as well as helping us 'hands on,' here on site as well as in our classrooms."
On this initial day's work at the wall, Zagar came to resolve the composition and place his pieces on the wall, then Marrone and Rogers will work with students and parents on the piece over the coming months. They expect to have it finished before the end of this school year.
"As to the design, we didn't want something cliche, such as the Welsh Valley Dragon school logo," Marrone explained. Considering Zagar's body of widely respected work, Welsh Valley chose not to impose a design on the artist.  "We invited Isaiah to make decisions so that it would look like and be indicative of his work," Marrone said. "We did request that the design incorporate young people who are happy and celebrating life, but we left the composition up to him."