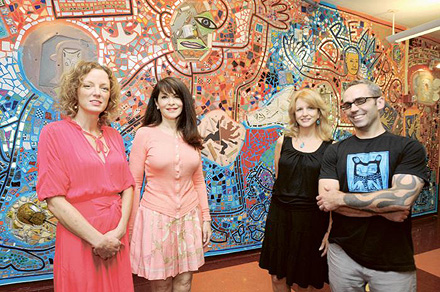 Pete Bannan • Main Line Times • June, 2012
Students and teachers at Welsh Valley Middle School recently unveiled their new mosaic designed by renowned Philadelphia artist Isaiah Zagar. The artist's Magic Gardens is a famed destination on South Street and his murals grace buildings around Philadelphia.
Art teachers Todd Marrone and Lori Roger said the work on the lobby wall was meant to be inclusive and with that in mind students in every class of the school took part.
Marrone said that Zagar sketched out the drawing. It then took two weeks of tiling to complete the mural.
The $4,000 project was supported by the Educational Foundation of Lower Merion, a parent group, and the Lower Merion School District.
A crown in the mural is in memory of Sean King, a student at Welsh Valley who died the year. His class did all of the tiles in the crown.
Some of the glazed tiles are from student projects from last year. Other tiles came from parents' contributions.