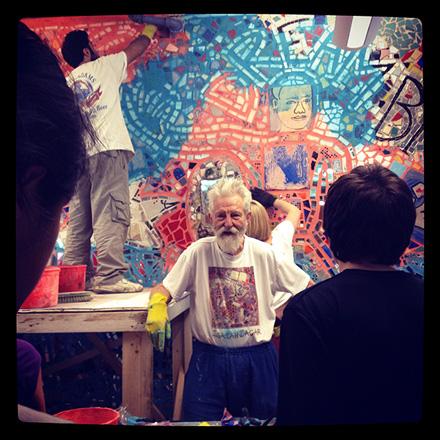 Mosaic Mural • 10'x22′ • Welsh Valley Middle School
The Welsh Valley Middle School community recently teamed with one of Philadelphia's most prolific and preeminent artistic visionaries, Isaiah Zagar, to create a monumental work of art. The project was spurred by a generous grant from the Lower Merion Education Foundation and further supported by LMSD administration, Welsh Valley Student Government and the Home & School Association.
Most every student worked to embellish Zagar's original composition by creating, placing and polishing each individual tile. In addition to embodying communal harmony and the collaborative process, the work serves as a celebration of the life of a fallen student and friend, Sean King. Just like the installation dedicated in his name, Sean's impact will continue to beautify and inspire for many years to come.